It has been three years and my heart still aches. It has been three years and tears still swell in my eyes when I least expect it.
Clarence Clemons died three years ago today and the music world changed, especially for fans of Bruce Springsteen and the E Street Band. Saxophonist, Bruce's sidekick, Big Man, C, The Biggest Man You'll Ever See.
Do I have to say his name?
Clarence was a force in our musical universe and, three years later, he still is – despite the lack of his physical presence.
I've been thinking about Clarence, over and over, since attending the final show of the Wrecking Ball/High Hopes tour on May 18 at Mohegan Sun Arena. The manner in which that show ended, the way that incredibly successful and energizing 26-month tour concluded, was filled with the spirit of Clarence. If you left Uncasville that night thinking anything else, you missed the point.
Bruce said it best in the eulogy he delivered for Clarence on June 21, 2011.
"How big was the Big Man?" Bruce said.  "Too fucking big to die.  And that's just the facts.  You can put it on his gravestone, you can tattoo it over your heart. Accept it… it's the New World.
"Clarence doesn't leave the E Street Band when he dies.  He leaves when we die."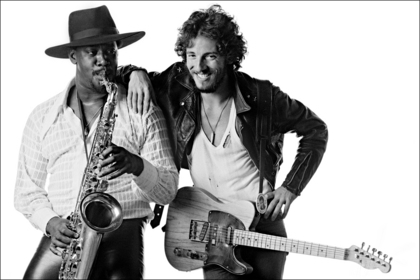 If you loved Clarence, it was hard to accept that line of thinking when the news of his death started spreading across social media. I remember getting the text message from my son in Kansas City. I was sitting on the couch watching television on a Saturday, the night before Father's Day.
Clarence had suffered a stroke on June 12. After a couple of surgeries, it was reported that he was in serious but stable condition. It didn't sound good, but E Street Nation is powerful. Everyone was pulling for a recovery. Personally, before I went to bed every night, I listened to Bruce's Counting on a Miracle. It just seemed to fit.
Instead of a miracle, there were complications. The extended family was left to mourn. Many of us felt as if we had lost a member of our own family. That Father's Day was filled with sorrow and emptiness. When you lose your own father, Father's Day changes forever. I can't imagine what it felt like for Bruce, the band members and the Clemons family to lose Clarence on that weekend.
The morning after Clarence's death started with the weekly radio show, which Tom Cunningham produces every Sunday from the Jersey shore. I will always marvel at the tribute Tom put together on such short notice for the Bruce Brunch. It was an amazing show that I recorded and will treasure forever.
In the midst of the mourning, I began to wonder. What happens to the E Street Band? Will Bruce ever tour again? If he does, what will the songs sound like without Clarence? Those saxophone solos were such a part of the band's legacy. Born To Run, Badlands, Drive All Night, Thunder Road, etc., etc.
And Jungleland of course. That was Clarence's signature solo – the epic, soaring, soulful sound of the Big Man that defined his career. If you heard it in concert, under the stars in a stadium concert with 60,000 people hushed by the beautiful sound, you witnessed a special moment that would become a lifetime memory.
To stand in the pit at a Springsteen concert – on Clarence's side of the stage – was one of the special experiences in rock and roll history. There was something about Clarence's eyes. As you watched him, it seemed he was making eye contact with you. His smile welcomed you into the music and those eyes told you how much he loved being in that spot, at that moment, and sharing with you – whether he was really looking at you or not.
At the XL Center in Hartford in 2008 we had tickets behind the stage, but again on Clarence's side. We didn't know what to expect sitting behind the stage, but it was a unique and magical experience. It was a glimpse inside the workings of the band as Bruce audibled off the set list, communicated with drummer Max Weinberg, and conducted his band.
Clarence could no longer stand through a three-hour show. He had that massive chair that he used to rest, but no one cared. It was Clarence's throne and even more than before, he was King of the Universe.
"He loved the saxophone, loved our fans and gave everything he had every night he stepped on stage," Bruce said. "His loss is immeasurable and we are honored and thankful to have known him and had the opportunity to stand beside him for nearly forty years. He was my great friend, my partner, and with Clarence at my side, my band and I were able to tell a story far deeper than those simply contained in our music. His life, his memory, and his love will live on in that story and in our band."
Easier said than done. But remember this is Bruce Springsteen, the master showman of our generation as well as newer andyounger fans now. Bruce went back in the studio and in February 2012 we started hearing the songs from the Wrecking Ball album. Some critics don't want to give the album its due, but fans embraced the songs and I think it one of Bruce's best efforts of all time. The stories, the characters and the progression of the tale from the first song to the last make it special. You won't find a better depiction of life in our world during these difficult days. But that's just my opinion.
How would the live shows be handled? Bruce announced that Clarence's nephew, Jake Clemons, would join the band and play sax. Perhaps the biggest shoes to fill in the history of the music business. Bruce expanded the band with a horn section that would be led by the dynamic, skyrocketing trumpet of Curt Ramm, who had been the soloist on Wrecking Ball when it was an anthem to close down old Giants Stadium in the Meadowlands. Singers Cindy Mizelle, Curtis King and Michelle Moore were added.
After two months of rehearsal, the new look E Street Band had a couple of warmup shows and then hit the road March 18, 2012 in Atlanta.
On March 26, at the TD Garden in Boston, my wife and I attended our first show without Clarence on the stage. It was truly emotional. New England, Boston in particular, has always been a special area for Bruce and Clarence. The energy was high in the building that night. Every time Jake stepped forward to play one of Clarence's solos, he was greeted by huge ovations from the crowd.
The brilliance of Bruce Springsteen is that he did not try to ignore Clarence's absence. He did not honor him with sadness or sorrow. Instead he celebrated Clarence, and the late keyboard player Danny Federici (who passed away in 2008) with tender moments that felt cathartic. Just right.
In the intro to My City of Ruins, Bruce talked about "hellos and goodbyes." He said the night's story was "about the things that leave us and the things that stay behind."
And then came the line that became the trademark of the tour in 2012: "If you're here tonight and we're here tonight, then they're here tonight."
Turn on the tear machine and let it flow.
Of course Tenth Avenue Freeze-Out is the story of the band, especially when "the Big Man joined the band." Bruce shouts out, "Now this is the important part." He stopped the band, allowing for an ovation from the crowd complete with a slideshow of photos featuring Clarence and Danny. According to Backstreets magazine the ovation from the crowd in Boston lasted three minutes and eight seconds. No one would have complained if it had gone on all night.
As the tour continued Bruce made adjustments to this tribute, talking about ghosts, standing in the spotlight in the exact position The Big Man used to occupy and becoming emotional. Often there were tears from The Boss and you could hear his voice quivering as he thought about his missing friend.
But his genius allowed him to reinvent the band. The horn arrangements were powerful and became centerpieces of the tour. The arrangements brought new life to old songs. It created new sounds, but the songs were still vintage Springsteen.
Then there is Jake Clemons. Talented in his own right, Jake has kept the flame alive. The crowds embraced him from the beginning but the important factor is that Jake has stayed true to his uncle's solos. He plays them with respect, knowing that alterations would be rejected. Without a doubt, that was the best approach. Often, Jake could be seen looking skyward, pointing to the heavens, and obviously feeling the spirit of Clarence. That's a beautiful thing.
That brings us to the final concert, the one I mentioned earlier in this piece. Tickets for the May 17 and 18 shows at Mohegan Sun were among the most difficult to acquire in a long, long time – and that is saying something for E Street Nation. When Steve VanZandt announced he was going to join the fun after missing the end of the tour because of his TV commitment in Norway, it was clear it was going to be ultra-special.
The last show had a special sizzle, opening with Roll of the Dice (perfect for a casino show), Leap of Faith, Jump (debuted at the Final Four in Dallas), Frankie,  Santa Claus is Comin' To Town (sign request from a young girl), and the worldwide debut of Seven Angels. There was a Stevie double-header with You Can Look (But You Better Not Touch) and Frankie Fell in Love. There were great songs from The River album. Tom Morello, who filled in during Stevie's absence and became a force on guitar, and the reliable and talented Nils Lofgren had their spotlight moments. The horns rattled the building with Johnny 99. It was a party.
But it ended in a way that was both puzzling and perfect. After sprinting through the crowd and one more ovation during Tenth Avenue Freeze-Out, Bruce called another audible and it was time for Jungleland.
"For the last dance," Bruce said quietly.
I was in Foxboro, Mass., in 2012 the first time Jake played his uncle's trademark solo on American soil. That was emotional too. But this went to another level. It was spiritual. Jake seemed possessed by his uncle. The solo was full of soul and beautifully perfect. Bruce and Jake embraced. Those in the pit said both had tears in their eyes. Bruce ended the song with that haunting howl and his heart seemed exposed to the crowd. All the emotion of 26 months on the road – without Clarence – came pouring out.
According to Backstreets, Shout was next on the setlist. The boys in the horn section started flipping through their charts, so maybe Bruce was calling an audible to Rosalita or some other upbeat song before finishing with a solo, acoustic piece. The entire band seemed shocked when Bruce called them all to the front of the stage. There was no roll call, just bows, and then the band was ushered off the stage.
Left alone, Bruce said, "One more before we move on down the road." Bruce sat down at the pump organ to play "Dream Baby Dream."
"We want to take a moment and thank yourselves for coming out and seeing us, I appreciate the support after all of these years," he said.  "And I want to thank all the four million-plus people that have seen us on the Wrecking Ball/High Hopes tour. They made this simply one of the greatest musical stretches of our lives, when we're coming out of hard times, and I can't thank all of them and all of you enough. So while we're apart, just remember… Dream baby dream…"
Those "hard times" were reflected in Bruce's voice. He was slightly off key and seemed a bit weak at the start of the song. He recovered, then left the organ and went down to his knees in the spotlight. "I just want to see you smile," he repeated over and over.
That's what you do at a Springsteen concert. You laugh, you smile, you get your ass out of your seat, dance until your feet hurt, and you sing until it hurts.
When it was over, Bruce said, "The E Street Band loves ya" and, "We'll be seein' ya!" Then it was down the stairs and out of sight. It seemed awkward at first, but in an instant it was all clear. Bruce had come full circle. It was the end of a process that began in March 2012 when the band took the stage without Clarence. The emotion was powerful and this was the way he had to walk away.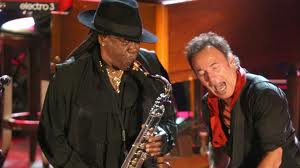 No one knows what is next on E Street. Word is Bruce just needs to be off the road and wants to spend as much time as possible with his family. That's a good thing. But we know he won't be gone long. He always has the next project in mind. Soon he will share it with us, then he will be back on the road. The band will be there too, in one form or another.
Three years ago today, that didn't seem possible without Clarence. But The Big Man's spirit lives on. When the E Street Band was inducted (long overdue) into the Rock and Roll Hall of Fame in April, Clarence's sax and Danny's accordion were prominently displayed on stage, just behind Bruce.
Today is the day to declare they will always be there, both on stage and in our hearts too. Life constantly evolves, even if that's hard to handle some time.
As Nils Lofgren wrote in his musical tribute to Clarence, "We miss you C."