Darn. That Bob Diaco is at it again.
The second-year UConn coach has all of college football laughing. Not just chuckling, mind you. This is all-out, roll-into-the-end-zone laughing. Spike the ball, do a dance, point your finger and don't worry about the penalty flag for excessive celebration.
That Tweet was hilarious. We're talking about that tweet from UConn football on Monday. If you don't play on Twitter or you haven't heard the story yet, please let us help you understand. This is what started all the hysteria.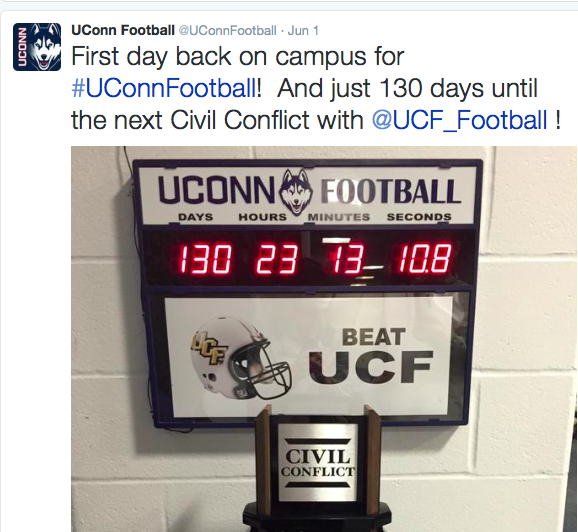 Go ahead and laugh. Join the party. Laugh for 130 days, if you want. It is that funny.
You can't have a rivalry if the other team – the other school – doesn't know about it. And down Orlando way, people are scratching their heads and wondering what this rivalry game is all about. Trophy? What trophy? (There's a rumor that the news got to Disney World and Mickey, Donald and Pluto injured themselves slapping their knees in laughter. I didn't even know ducks and dogs had knees.)
The American Athletic Conference just held its annual meeting in Key Biscayne last week. Coaches and athletic directors were there. Evidently Diaco didn't discuss this with anyone – even though the timing would have been perfect. He wanted to keep it a secret. That's always a good idea with your conference partners, sort of like Syracuse and Pittsburgh plotting to leave the Big East a few years ago.
UConn – and a few others – sure were surprised by that one, even though it was no joke.
Now it is UCF's turn.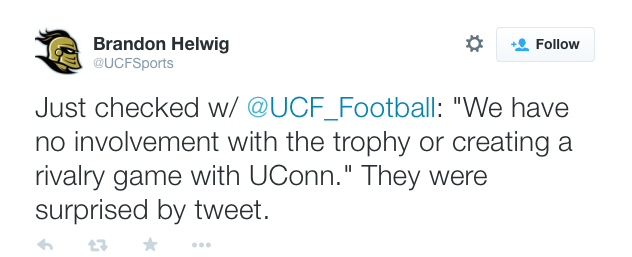 Sports Illustrated decided to dip Diaco's message in Extra Mustard. Yep, don't choke on that hot dog, SI.com. Just join the pigskin party and don't remember to bring the buns.
Diaco sent an email to The Hartford Courant when asked about the creation of the game.
"Rivalries are one of the ways that engage teams, the student body, and fans to the conferences they are a part of," Diaco wrote. "The Civil Conflict will be no different. The challenge was born out of an ultimate respect for Coach [George] O'Leary and the football product UCF has built."
That's a strange way to show respect for a fellow coach. But O'Leary has been around the block once or twice. I'm sure he understands the desperation level that Diaco feels right now. But you couldn't blame O'Leary for placing a call to Storrs and asking Diaco, "What the hell are you doing?"
Yes, we understand this isn't the first time Diaco has suggested this rivalry. But a rookie head coach can't just get his first conference victory (in an otherwise miserable season) and then create a rivalry. That's annoying. Rivalries include a good back-and-forth with both teams trading victories on the field. Competitive games every time. Aged by time.
Notice in the Courant article that Diaco also tries to present a geographic justification for UConn and UCF being declared "The Civil Conflict." Something about the northern most point of the AAC vs. the southernmost point of the AAC.
What?
Diaco used examples of trophy games he has been part of, like Iowa-Minnesota and USC-Notre Dame. Uhmm, Iowa and Minnesota are adjoining states. That makes geographic sense and always will. USC and Notre Dame? That's just different. Anybody who doesn't understand that doesn't know much about college football and its history.
Take a look at this list and tell me how UConn-UCF warrants a trophy. I don't think so. Not by any definition.
Around Connecticut, we are growing accustomed to these Diaco gimmicks. He has had more than one crazy press conference since arriving in Storrs. If you are a Diaco supporter, and I fully admit I am not, you could say he is trying to get UConn football in the headlines, in people's minds, trying to sell tickets, trying to give a struggling program a boost, trying to generate any interest and showing that the Huskies don't back down.
This isn't the way to do any of that. The UConn program is already a laughingstock in college football, a bottom feeder in the FCS, picked near the bottom of the AAC again. With the conference struggling for any degree of national respect, Diaco just dealt his own people another blow. AAC commissioner Mike Aresco couldn't have been happy.  I can't imagine that UConn athletic director Warde Manuel authorized such a ridicuous attempt to get people thinking about UConn football in June.
I even heard from a friend from the Far West, via Twitter.

From coast-to-coast, people stopped Monday. And pointed. And laughed. At UConn football. Not exacty what the Huskies need right now. Talk about poor execution. We won't see anything like it until Sept. 3, when the Huskies open the season against Villanova.
That darn Diaco is at it again.