It took a little longer than expected, but the UConn men's basketball program has hired a fulltime assistant coach to fill the spot vacated when Karl Hobbs left in the spring to join the staff at Rutgers.
UConn coach Kevin Ollie announced Wednesday that Dwayne Killings, an assistant at Temple since 2011, will join the UConn staff immediately.
Consider the fact that Killings, 35, has career experiences ranging from the AAU to the NBA and it is easy to see that he fits the mold of Ollie's staff at UConn and that includes a youthful, hands-on, high-energy approach that players relate to easily. And with five years under Temple coach Fran Dunphy, one of the most respected and intelligent coaches in the nation, Killings will be expected to bring a solid outside viewpoint to UConn's staff.
"I am excited to welcome Dwayne Killings to the UConn family," Ollie said in a statement issued by UConn. "I was very impressed with his pedigree, the different walks of life he's been through. He's been an assistant coach at Temple, but he's also worked in the NBA office, and with the Charlotte franchise. All the different knowledge and basketball experience he has is invaluable. I know he will be an outstanding addition to our staff."
Killings is a native of Amherst, Mass. He played at UMass for two seasons before transferring to Hampton University, where he earned a degree in sports management in 2003.
"Having grown up in New England, UConn is just such a unique and special place, with such a great tradition," Killings said in UConn's release. "And then, to work for someone like Kevin Ollie, is something that made the opportunity really attractive to me. He's a young coach who has already accomplished a lot of great things.
"I thought we had a lot of synergy as we started to talk to each other about where he wants to go with the program and, at the same time, how he wants to try to have his staff be a part of his vision and his future and I got really excited about it. I thought it was an opportunity to step outside of my comfort zone to really be pushed to help this program continue the excellence in everything they do on and off the floor."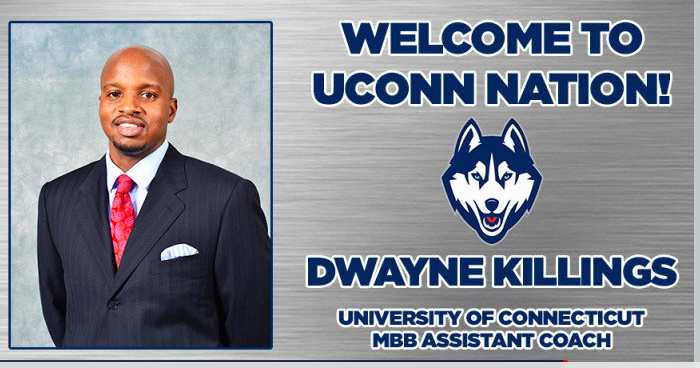 Ollie said he took notice of Killings while on the recruiting trail.
"He was always so professional in the way he conducted himself … how he carried himself, not only on the court, but off the court, as I saw him work at the different AAU tournaments," Ollie said. "With his recruiting ties across the country, I think he's going to do a great job for us. And obviously, his knowledge of the [American Athletic] conference, being at Temple, is huge."
Killings said he quickly bonded with Ollie.
"We've had many conversations and he knows a bunch of people I'm really close with and people he is close with have been like mentors to me, so in some ways, we're connected," Killing said. "Probably my background speaks to Coach Ollie a little bit because we've kind of crossed the same paths — his career is so unique because he's had to grind it out for everything he got, especially in NBA. And for me, having not been a heralded basketball player who never scored a meaningful bucket in college, I've had to go through it in kind of a different way for my professional career."
Accirdung to the bio released by UConn, this had been Killings' second stint at Temple. He also served as assistant director of men's basketball operations from 2006-09. During Killings' last five years at Temple, the Owls posted an overall record of 104-63 (.623) and a combined conference record of 52-30 (.634) in the Atlantic 10 and the American Athletic Conference, and captured a regular-season conference title in each league. In his five years, Temple made four postseason appearances, three in the NCAA Tournament and one trip to the NIT semifinals.
The season before he returned to Temple (2010-11), Killings served as an assistant coach at Boston University, and helped the Terriers capture the America East Championship and earn an NCAA Tournament berth. Prior to working at BU, Killings was with the NBA D-League, where his responsibilities included monitoring player development programs and providing updates on players' progress. Killings' initial job in basketball after earning his college degree was a three-year position with the NBA's Charlotte Bobcats (now Hornets) as a special assistant, video coordinator, and assisting with player development, including former UConn All-American Emeka Okafor.
Killings and his wife Ana are parents to 2-year-od Alecia.
Hobbs, a former UConn player and long-time assistant under Jim Calhoun and Ollie, left the Huskies on March 31 to join the staff of Steve Pikiell at Rutgers. Pikiell is another former UConn player and assistant coach. Glen Miller, Ricky Moore and Kevin Freeman – all former Huskies – remain on Ollie's staff. Freeman, director of basketball administration, had filled Hobbs' spot in recent months.
There had been speculation that Freeman would be elevated permanently. Ollie said last week that the spot would be filled soon. He said UConn had to go through all the proper steps of hiring and he wanted to make sure he found the right person. He obviously value Killings' experience. Freeman is headed to bigger things in coaching. Ollie was simply looking for more experience at this time
"Coach Killings is a role model for our student-athletes," Ollie said. "He's a family man and I think that's important. The way I believe he can communicate with our student-athletes will be important as well. Who he is as a person, that's going to come to light in everything he does at UConn."
Looks like a great hire for Ollie. Only time will tell.