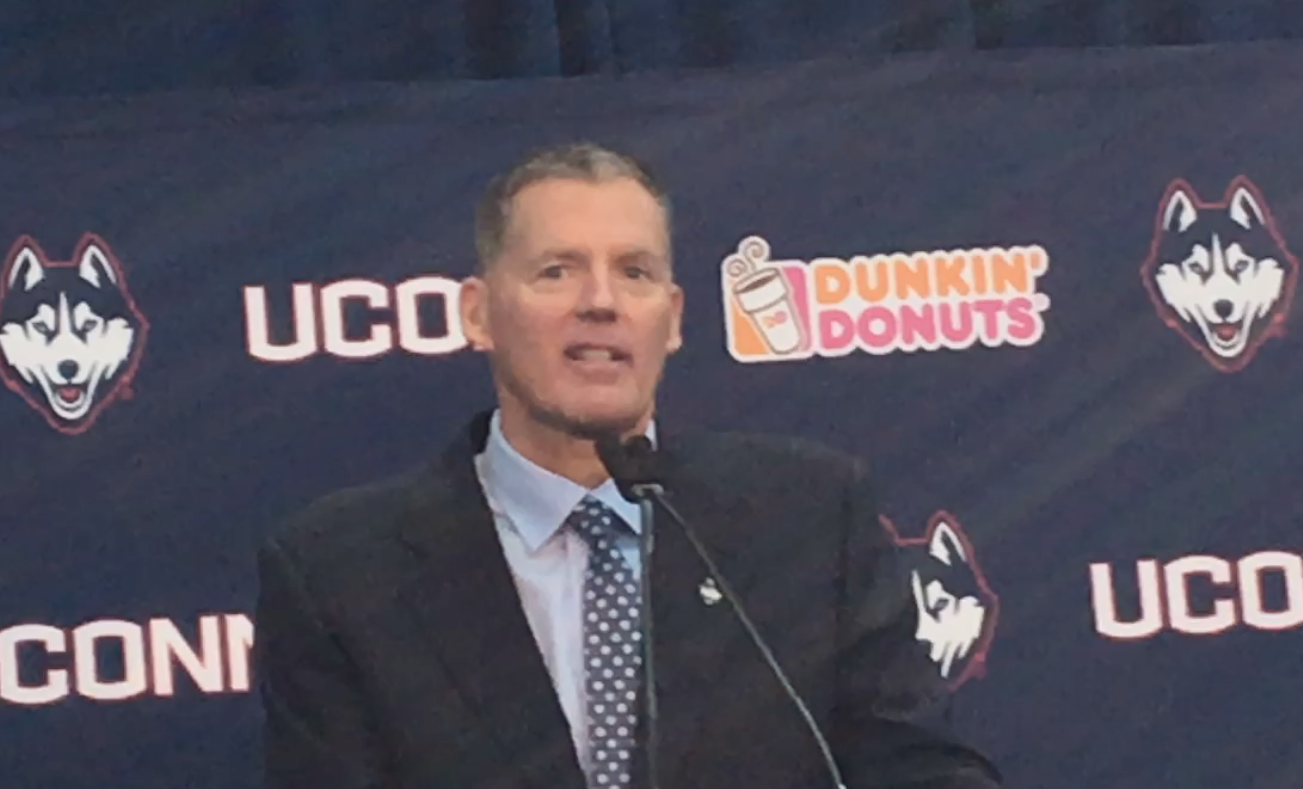 EAST HARTFORD, Conn. – Six years between visits to the Connecticut football family, Randy Edsall began his day Friday the way a grown child would start a trip home for the holidays. He checked out the old neighborhood.
Edsall and his wife, Eileen, drove around Rentschler Field, noticing one subtle change, the renaming that has created Pratt & Whitney Stadium. And, of course, there was one other eye-catching change. That would be the memorial to Edsall's former UConn player, the blue and white No. 6 that honors Jasper Howard and stands in the end zone under the stadium's main scoreboard.
Howard, a cornerback with pro potential, was murdered on campus while celebrating homecoming with other students on Oct. 19, 2009. Earlier that day, Howard had helped UConn score a victory over Louisville with a career-high 11 tackles and a fumble recovery.
Edsall kept the program together through that horrific period. Good times in the UConn program didn't automatically dissolve into bad times. The Huskies lost three in a row but closed the season with four consecutive wins, including a double-overtime 33-30 victory at Notre Dame. Edsall remains in contact with Howard's family and the anniversary of his death has come to symbolize the desire, the passion and the meaning of being a family off the field too.
The monument to Howard was completed only after a major donation from Edsall, when he was coaching at Maryland. Until Friday, Edsall and his wife had never seen it.
Edsall started choking up as he described seeing the memorial for the first time. He tapped his heart a couple of times and tears rolled down his cheeks.
"It gets you right here and it never leaves you," Edsall said.
His second stint as UConn football coach does not officially begin until Jan. 3 but that statement probably cemented the deal better than any signed contract ever could.
It was just one of several moments where euphoria reigned over this press conference, where the public was allowed in to create warm and fuzzy moments for this remarriage ceremony.
"Welcome Home," one fan shouted.
"Amen," another fan screamed after Edsall discussed the need to keep up with today's offensive trends, high-scoring passing attacks and the spread.
Edsall, 58, won 74 games at UConn between 1999 and 2010. Back then, the Huskies were asking Edsall to upgrade the program from FCS status to FBS (Div. I-AA to Div. I, if you prefer.) He did it by directing the Huskies through the most successful period in UConn football.
Under Edsall's watch, the Huskies also opened their 40,000 stadium in East Hartford and moved into their second-to-none, on-campus facilities. Edsall took UConn to five bowl games, including the 2011 BCS game as Big East representative to the Fiesta Bowl.
But after that loss to Oklahoma in the Fiesta Bowl, Edsall didn't travel home with his team. He didn't tell his players he was taking another job. Many learned of his decision to leave UConn for Maryland via text messages they didn't see until arriving back in Connecticut.
For those who haven't forgiven him, Edsall tried to clean up that issue Friday with an apology.
"Almost six years ago, I made one of the worst decisions in terms of how i left the University of Connecticut," Edsall said. That is something I have to live with and I've lived with. I'm not perfect. Everybody makes a mistake. I regret it. It's something that has weighed on me – very heavily – over the years.
"I just hope that I will be able to earn the trust back from all you wonderful fans because what I'm doing know is I apologize for how I left. It was wrong. I take full ownership and accountability for that. And now we're going to move forward together to grow this program. I know this. I'm not good enough to do it myself."
The fans at Friday's press conference gave Edsall an ovation, striking the appearance that are willing to forgive. Of course, Edsall's return ends the most frustrating three-year period since the program upgraded.
Bob Diaco's final chapter ended 3-9 with six straight losses and a lot of bad feelings. Athletic director David Benedict announced Monday that Diaco had been relieved of his duties. But sources confirmed to Kendavisfiles.com that actually took place around Dec.14 or 15, providing plenty of time for Benedict to have all the necessary discussion with Edsall, who will continue his work on the Detroit Lions staff through the weekend and perhaps longer.
Benedict had never spoken to Edsall before last spring, in the first month he was on the job at UConn. He said he reached out to several people who had been associated with the program in the past.
"I think you could see in the emotion that was evident in Coach today that he obviously has deep regret about [the way he left]," Benedict said.
Benedict confirmed that something happened after Nov. 26 that changed Diaco's status, but wouldn't get into specifics.
"When you evaluate and you're talking about things every day, it just got to the point in my gut I felt like it was time," Benedict said. "I got to the point where I felt we needed different leadership."
Edsall met with about 20 current UConn players who are on campus for semester break. Tight end Tommy Myers, who grew up just miles from UConn in Coventry, Conn., might be the only who watched Edsall coach the Huskies at old Memorial Stadium.
"It's been a whirlwind," Myers said. "I'm excited to move forward, most importantly, sticking together with my brothers. I was a disappointed child when he left [for Maryland] too. We're going to work hard and the winning will take care of itself.''
Former UConn running back Andre Dixon was on hand to welcome his former coach back. Dixon could barely contain his enthusiasm.
"[The attendance at games] went down and went down," Dixon said. "I didn't want to come to games. I couldn't not watch that style of football, That effort, I don't think that was Husky football. With Edsall again, the numbers are going to go up and up, It's going to turn back into Husky Pride and if you bleed blue, it's going to be great around here again."
As far as Edsall is concerned, that's what this is all about.
"I didn't want to get all emotional," Edsall said. "But this is what Connecticut is all about. This is what Connecticut has meant to me. And thank you for having me back."