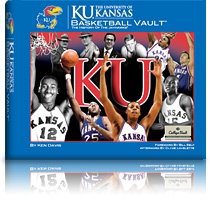 "On Top, Once Again"
In The University of Kansas Basketball Vault: The History of the Jayhawks, Ken Davis, a national freelance writer and KU graduate, explores the prolific 110-year history of one of the most storied and beloved college basketball programs in the country. Along with the author's narrative, this book contains memorabilia replicas such as tickets from the 2008 Final Four, an old photograph of the game's inventor, Dr. James A. Naismith, coach and player notes from the 1952 championship season, and Dick Enberg's television notes from a NCAA regional game. It also contains a ticket from a 1927 game against Nebraska played in Robinson Gymnasium and compelling stories of the long coaching legacies of Phog Allen, Larry Brown and Roy Williams. Replica postcards, a poster, a 1940s pennant and much more are all waiting to be discovered in the pages of The University of Kansas Basketball Vault.
"The 2008 NCAA Championship was for everybody who has ever run out on that court and has played or coached or participated here at Kansas. We did it for our families and our fans, and we did it for each other. This book captures that feeling – the feeling of the Kansas basketball program." – Bill Self, Kansas basketball coach
"Kansas basketball is one big family. That's why it means so much to me to be a part of it. Nothing in my career has meant as much to me as going back to Kansas and seeing the guys, seeing the fans and how they still honor us for what we did for Kansas." – Clyde Lovellette, Kansas All-American (1951 and 1952) and member of the Naismith Basketball Hall of Fame.
Hardcover: 12″x10″, 144 pages
$49.95/$56.75 Can.
Whitman Publishing, LLC, Atlanta, GA
College Vault