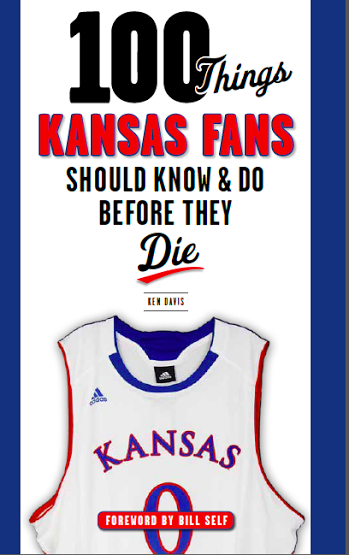 Most Kansas fans have attended a game at Allen Fieldhouse, chanted "Rock Chalk Jayhawk" and joined in the festivities at Late Night, but only real fans know the new lyrics to "I'm A Jayhawk," have felt bittersweet pride (and maybe shed a tear or two) during the speeches and celebrations on Senior Day and road tripped to Manhattan, Kansas to watch the Sunflower Showdown from a different angle.
100 Things Kansas Fans Should Know & Do Before They Die (Triumph Books, November 2013) by seasoned basketball reporter and writer Ken Davis, reveals the most critical moments and important facts about past and present players, coaches and rivalries that are part of the storied history that is KU basketball. Page through the collection of anecdotes, interviews, and behind-the-scenes stories to discover:
Profiles of Paul Pierce, Wilt Chamberlain, Ben McLemore and more of the most popular Jayhawks to ever don the crimson and blue, famous coaches including Phog Allen and Bill Self and staff members such as Andrea Hudy, the only female strength coach in Division 1 basketball
The origins of the Jayhawk, a mythical bird that combines the blue jay and sparrow hawk
The story of how James Naismith arrived in Lawrence and became KU's first basketball coach, after he invented the game in Springfield, Massachusetts
Details of game-changing plays and exciting wins including national championship titles from 1922, 1923, 1952, 1988 and 2008.
Whether you're a die-hard fan from the days of Larry Brown and Danny Manning or a newer supporter of Bill Self and Andrew Wiggins, 100 Things Kansas Fans Should Know & Do Before They Die offers a chance to know the most important facts and figures about the team, the traditions and what being a Kansas fan is all about.
About the Author:
Ken Davis is an award-winning sports writer who has covered college basketball for 35 years. He grew up watching Jayhawk basketball in Overland Park, Kan., and graduated from the KU William Allen White School of Journalism in 1980. After 25 years in the newspaper industry, Davis has been a freelance writer and national college basketball writer for NBCSports.com and FoxSports.com. He is the author of The University of Kansas Basketball Vault and The University of Connecticut Basketball Vault. Davis was inducted into the New England Basketball Hall of Fame in 2013. He lives in Coventry, Connecticut.
Purchase:
100 Things Kansas Fans Should Know & Do Before They Die on Square Market

Facebook:
100 Things Kansas Fans Should Know & Do Before They Die:
Paperback
$14.95
5 1/2 x 8 1/2
304 pages
20 B/W Photos
ISBN: 9781600788178
PUB DATE: November 2013