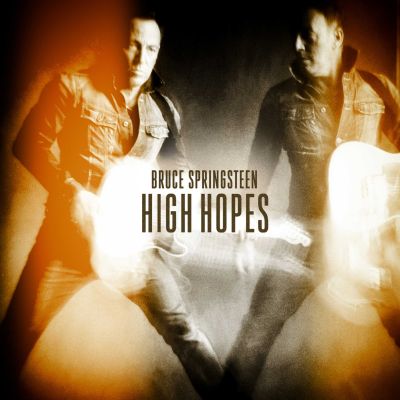 It truly is a day for "High Hopes" on E Street. If you don't already know, E Street is where Bruce Springsteen fans reside – and sing, and dance, and generally hope that the world could be a better place.
(And speaking of places, let's get this out of the way quickly: I'd rather spend the day at "Mary's Place" than "Harry's Place.")
It is January 14 and the calendar has been marked ever since the announcement was made that Bruce would be releasing another studio album on this date. "High Hopes" officially came out today, but there has already been enough leaking and streaming on Amazon and CBS, in addition to the big Bruce interview on E Street Radio, to give fans a chance to hear the music over the last week or two.
In addition to the official release of the album today, Bruce and the E Street Band will be appearing on Late Night With Jimmy Fallon tonight. We've already seen some pictures on the Internet from New York, where the stage setup, sound checks and rehearsals have been in progress leading up to this afternoon's taping. The E Street Horns are there, as is Tom Morello, whose fingerprints are on this new album so much it could be titled "Duets by Tom and Bruce."
The last time Bruce got together with Jimmy and The Roots, it was an epic Late Night performance. It's reasonable to expect more of the same tonight.
If that wasn't enough for one day, the lineup for the New Orleans Jazz & Heritage Festival was released and Bruce and the E Street Band will be returning to that wonderful event in the spring. That news gives all of us high hopes that Bruce will be touring back in the United States in 2014 – not just in Europe and Australia and all over the planet. Bruce has hinted at that, talking about wanting to play in Texas and other places that missed out in 2012. For those of us in withdrawal and attached to the Mainland, our long, difficult wait may be over.
I need a Bruce show. I need it bad. That said, I will stop begging.
I listened to the album three or four times before it downloaded into my iTunes library today. The CD and the bonus DVD (available only from Amazon) will arrive on my doorstep in a few days. I'm a sports writer, not a music critic, but I'm going to offer my thoughts because music – especially Bruce's music – is such an important part of my life.
"High Hopes" is a much more enjoyable listening experience than I thought it would be. I was worried that this was a rush release, much like "Working On A Dream," which came too soon after a the terrific "Magic" album. I am not in love with the "Queen of the Supermarket" and that is the only Bruce song I will immediately turn off when it is played on E Street Radio. (Or course, it wouldn't be played anywhere else. It's a horrible song.)
"Wrecking Ball," in my opinion is a work of art. There is a story and a progression that exposes the human experience in our country today in such a raw, emotional manner that it makes you sing along and cry at the same time. It takes you through despair, rebirth, tearing down and rebuilding, all the way to death and life after this world. It is one of Bruce's finest efforts.
I thought the new album, especially with the title "High Hopes," should carry a message of hope and, for the most part, I think it does. "High Hopes" is a collection of old songs never recorded, covers, reworked tunes, and other songs that had only been performed live – such as "41 Shots." That's a different approach for Bruce. No problem with that. There may be a theme and a thread to this album, but I think that's up to the individual listener.
Personally, I don't need this much Tom Morello. If I wanted that, I'd go out and buy Rage Against the Machine albums. Nothing against Morello. He is talented and seems very humble. But Bruce has two extremely respected musicians and highly regarded guitarists in Nils Lofgren and Steve Van Zandt. I understand Little Stevie has other obligations in his career and he couldn't make it to Australia for the start of the 2013 tour. But when Morello becoming so prominent, I think two important members of the E Street Band get pushed aside a bit. That's not right. But Bruce is The Boss. If he wants to work with Morello at this level, we just need to respect that.
Listen closely to the new album and you will Clarence Clemons on the sax. You will hear Danny Federici on the organ. That's the bonus. Since some of these songs almost made earlier albums, those saved sounds can be mixed in and merged with the new work. That's the beauty of the way Bruce works. May he always carry his songbook around  when he's on the road.
We didn't need another version of "The Ghost of Tom Joad." And this recorded version of "41 Shots" doesn't hold the power of the live performance. But there's nothing wrong with including them on this album.
For me, the exciting part is the new music – even if it is old music that we are just hearing for the first time. My favorite is "The Wall." I'm drawn to Bruce Springsteen for his ability to tell stories. He has this amazing ability to develop a character through a song the way others do in a book or screenplay. "The Wall" is one of his best stories in years. Pay close attention to the lyrics and then let the beautiful coronet solo by Curt Ramm take the piece to an unmatched emotional level. It is vintage Springsteen. It is perfect.
"Hunter of Invisible Game" has the classic Springsteen sound. There is a deep message here about the creative spirit and the struggle for perfection. Coming from Bruce, it is comforting to the rest of us who chase that invisible game to varying degrees of success. "This Is Your Sword" feels like a sequel to "Death to My Hometown," which became such a crowd pleaser during "The Wrecking Ball" tour. I'd love to hear them back-to-back in that live setting.
"Frankie Fell in Love" is light and bouncy, a pop song that could work on radio and will certainly be fun in concert. Bruce will take those two minutes and 45 seconds and stretch them out to five or six minutes of rock-and-roll spiritualism and fun. When you listen to it, you won't be able to get it out of your head. My first thought about "Harry's Place" was that it would be perfect for an episode of "The Sopranos." Too bad that can't happen. "Down in the Hole" clearly was part of the genius of "The Rising" and Bruce just waited a while to hand it over to the world.
The album wraps up with "Dream Baby Dream" a new version of the song played so often on the "Devils & Dust" tour in 2005. Confession: I used to cringe every time I heard this cover of the song by Suicide. I didn't understand why Bruce even played it. I didn't share the enjoyment of the rest of the crowd. But that video Bruce used as a thank you note to all his fans at the end of the tour in 2013 changed all of that.
"I just want to see you smile." Isn't that the bottom line? Isn't that the Bruce concert experience? "Come on and open up your heart."
Love this song now.
I laugh at some of the reviews I've read of "High Hopes." One headline said, "Strong, but not his best." The Boston Herald said that "ambition hurt his last three albums." That's just laughable. If "Wrecking Ball" wasn't an important an important record, I guess that reviewer must be confused with the Miley Cyrus version.
"High Hopes" is not "Born To Run" or "The River." No one promised that or anything close. But it is new Bruce music and there's never anything wrong with that.
There are many reasons to celebrate today.
Seize the moment.
Focus on your own "High Hopes" for 2014. And hope for news of a U.S. tour.