STORRS – Yesterday was all about the decision. Today will be about the presentation.
I've been covering college football since 1977. I've covered teams from the Big Eight, the Big 12, the ACC, the Big East, and the American Athletic Conference. I've been to the Orange Bowl, the Sugar Bowl, the Fiesta Bowl and the Rose Bowl. I've covered BCS championship games. I've been to countless practices, daily press conferences, weeky press conferences, post game press conferences, and conference media days. I've interviewed Dick MacPherson, Joe Paterno, Bobby Ross, Bobby Bowden, Jim Tressel, Jimmy Johnson, Bud Moore, Don Fambrough, Mark Mangino, Tom Osborne, Bob Stoops, Larry Coker, Pete Carroll, Mack Brown, Urban Meyer, Brian Kelly, Dan Devine, Charlie Weiss, Skip Holtz, Randy Edsall and Paul Pasqualoni – just to name a few.
I may not be an expert in the X's and O's of football but I know my way around when I'm covering a college football team.
All of that considered, I've never seen a starting quarterback named the way coach Bob Diaco did that Monday evening at UConn. By now, UConn fans know the news. Casey Cochran will be UConn's starter against BYU on Aug. 29. Chandler Whitmer is the "key backup."
But the press conference was different. Very different. It was – all at once – amusing, confusing and maybe a bit alarming for the Connecticut media.
A headline on CoachingSearch.com said Diaco "announces starting QB in strangest of ways." Writer Pete Roussel called it unique in that Diaco first described "extensively who the third quarterback would be" before getting to the main announcement.
Good point, but not part of odd scene that we observed as local writers.
Monday was one of six regularly scheduled media opportunities before the opener against BYU. Most of us showed up anticipating a quarterback decision because Diaco had said he wanted to make a decision by two weeks before the first game. But when we arrived in Storrs, we were told no players would be available for interviews after practice (which we were allowed to watch for the first 35 or 40 rather worthless minutes – at least from an informational standpoint).
There were whispers that Diaco had "something up his sleeve." No one knew what that meant.
About the time practice ended, a few members of the football staff entered the defensive meeting room inside the Burton Family Football Complex – the site of all press conferences. The podium reserved for Diaco's use was pushed to the side. It was replaced with a folding table that was covered with a blue tablecloth. Five folding chairs bearing the name "UConn Football" were lined up behind the table.
Media members started wondering if Diaco would introduce captains instead of naming the starting QB. I turned to Twitter and posted this tweet. It received quite a few "retweets."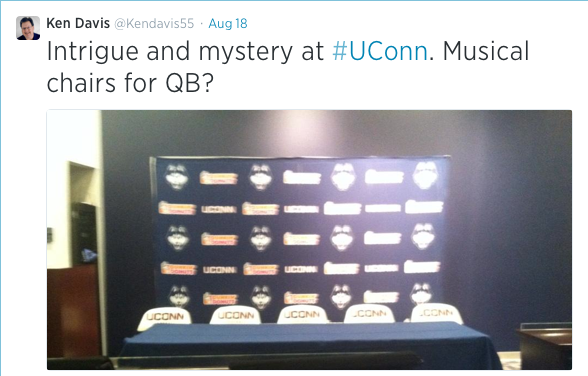 Jim Fuller of the New Haven Register wrote on his blog: "I've covered my share of competitive quarterback battles but have never seen a coach bring in every scholarship quarterback to announce the starter. It was original, that is for sure."
Fuller, who is a damn good beat writer, also described the press conference as "somewhere from the bizarre to the surreal."
Before Diaco and the players marched into the room, name tags were carefully arranged on the table. They honestly weren't necessary. We've all interviewed Cochran, Whitmer, and Tim Boyle. They all started games last season. It was the first time I had seen the face of transfer Bryant Shirreffs. But he wasn't part of this competition. He must sit out this season. That created another awkward moment when Diaco pointed out that no one had asked Shirreffs a question. That resulted in a courtesy question or two but nothing that was relevant to the story.
Two UConn helmets – one a home helmet, the other a road version – became centerpieces for the feast. All in all, it was a very forced environment and very unconventional. It gave Diaco total control of the situation, something that has become increasingly obvious in its importance to the coach in just a short time. He called it a "panel" interview. Reporters would call this unacceptable. The fear is that the players were schooled in their answers before entering the room. They all wore the same shirt, for heaven's sake.
And even though the players would never admit it, the situation must be intimidating for them with their boss – I mean coach – hanging on every word.
For a football writer, the usual scenario would be this: Coach names starter, starter made available for individual interviews and, in this case, the backup would be made available too. That takes too much control away, however, and in this short amount of time Diaco has demonstrated he wants as much control as he can get away with.
Monday's press conference was scheduled for 6:30 p.m. – after practice. That made it impossible for any local TV stations to staff the event. No TV cameras. This program needs publicity. That was a bad move for an announcement that was anticipated by so many fans.
Fans and readers don't care about our problems. But the fact is we cannot give you any impression of this team or the schemes Diaco might use in the opener because we haven't seen a thing in the preseason. Diaco wants one voice and he is that voice with the media. He has said that he doesn't want to talk about last year or the past at UConn because he wasn't here.
That rule seemed to change Monday when Diaco discussed Whitmer's decision to return to UConn for one more season. Whitmer was "out of the door" but changed his mind after speaking to Diaco on the phone.
"It has been well-documented last fall and really unjustly and unnecessarily, and I'm sure Chandler would take accountability for his own actions," Diaco said. "The fact of the matter is that it played out on a public stage. The dirty laundry was aired out into the world as it relates to performance and commitment. Last fall was a hard year."
If Diaco means the media took him to task for throwing too many interceptions or his attitude after losing his starting spot, I cannot remember that. Of course Whitmer's decision making was questioned. The coaches did that and the media followed in line. I've never known Chandler Whitmer to have a bad attitude. For Diaco to make these comments when he wasn't in Storrs last season – and when Whitmer returned promising to do better – was unjust and unnecessary on Monday.
Diaco shakes the hand of every reporter and thanks us for coming on days that are open. I've never seen a coach do that. The beat guys are simply doing their jobs. I'm a freelancer and I can do whatever I want to do. This is an important season for this football program and for an athletic department that is hoping not to be left behind by the rapidly changing waters of NCAA governance. So I'm observing the transition to the Diaco Era.
It's too early to say he is failing. But I will say he is off to a bad start with the media. When Jim Calhoun came to UConn in 1986, he realized the media could help him spread his message. Basketball practice was open almost every day. The locker room was open. Players were available. That changed over the years, but Calhoun still gave more access than almost any other college basketball coach. He won three national championships and is in the Hall of Fame.
Calhoun fought many battles with the media, but he understood the entire picture when he arrived here. Calhoun was from Boston and sophisticated dealing with reporters.  Diaco, in his first head coaching job, is trying to reach out to fans and market his product. Somehow, he forgot about the media.
In the long run, winning and losing will determine his popularity with the fans. But this is not a good team. It figures to be a very long year. Wouldn't you think Diaco would want the media on his side?
The season will seem even longer if he continues this pattern of controlling. Whenever that happens, the media tends to become suspicious. Why so much secrecy? What is being hidden?
A little transparency would help. So would some trust. Then both sides could do their jobs and co-exist. Right now, the arrangement is not headed in that direction. And we're still 10 days away from the opener. That's not a good sign with so much season ahead of us.